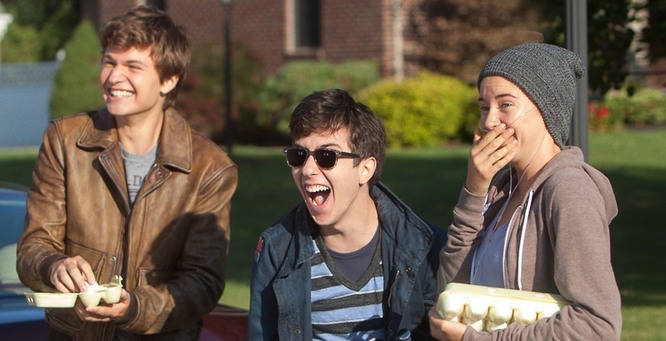 Nowadays, I'm not usually moved by films. I think I've gotten my fair share of movies that have moved me in some way and it gets increasingly difficult for the next film to beat the preceding one.
But you have got to be living under a rock if you have somehow evaded the ubiquitous buzz regarding "The Fault in Our Stars". I never read the renowned novel and had relatively low expectations except for the fact that I would cry my heart out after this. And I did.
This movie was a serious tearjerker. I have never bawled my eyes out as much as I did during this movie. Not from The Notebook, Titanic, Schindler's List, Forrest Gump, Up, The Boy in the Striped Pyjamas, etc. No. TFIOS was seriously the biggest bitch of bitches for my tear ducts. I hated it. No, what am I saying? I loved every second of this masterpiece.
This wasn't some cheesy, tragic, sugarcoated, unrealistic love story. It was raw and portrayed life and cancer in such an insightful, real way. Life is not some grandeur, YOLO adventure; sometimes, you're slapped with cancer and you cannot control your fate no matter how much you want to.
I fell in love with the love story between Gus and Hazel, portrayed excellently by Ansel Elgort Shailene Woodley, and the theme of TFIOS. As promised, I cried for the whole second half of the movie. The theater workers standing near the exit definitely got some entertainment watching all the audience members exit with smeared mascara, bloodshot, watery eyes.
This film was so artfully done and had a profound effect on me. I am beyond lucky to say I have never been directly touched by someone with cancer (although I've had distant family members succumb to the disease) but I know a majority of people have. This film was beautiful and tackled on the serious subject of the disease in such a different way. Sure, there was the typical melancholy tone but John Green and Josh Boone did it in such a light-hearted, unsentimental way, it ironically emphasized the gravity of cancer. TFIOS undoubtedly touched many hearts and has cracked my top 5 movies.
If you do watch this brilliant film, I highly suggest bringing tissues with you. There won't be a dry eye in the audience by the end of this tearjerker.
"Men at sometime were masters of their fates. / The fault, dear Brutus, is not in our stars, / But in ourselves, that we are underlings"

Okay? Okay.