In case you didn't know, I have infatuations with many "famous" men. I usually obsess over one more than the others for a certain time period. Since the beginning of the 2012 Summer Olympics to the end of October, I had an unhealthy obsession with Nathan Ghar-jun Adrian, aka the hottest swimmer on this entire planet. I tried to watch every single Youtube video relating to him and tried to scroll down his Twitter feed as far as I could. Did I mention I received 3 tweets from him? Well, I did. Luckily, my unhealthy obsession has started to fade the past couple months but an old crush has started to creep back up:
Bradley Cooper
I'm just going to put out there that he is old enough to potentially be my father. However, I still refer to him as my "husband" (Leonardo DiCaprio is my ex-husband).

Yeah I know I seem like a psychotic stalker but I swear I'm not. I'm merely mesmerized by his beautifully sculpted figure. I mean, who isn't? I recently visited the Madame Tussauds at Las Vegas and took a wonderful picture with his wax figure. It was a life-changing experience to say the least. That event rekindled my lust for the perfectly chiseled, 6'1 man once again.
Look at those piercing blue eyes.
My ovaries just exploded.
Oh yeah, did I mention he dances?
And he's fluent in french.
Seriously, this man is perfect. No matter what he says about his size 14 feet. I recently learned he abstains from alcohol too. Say what?!
Today is also his birthday. Thirty eight years ago, his mother gave birth to the sexiest man alive.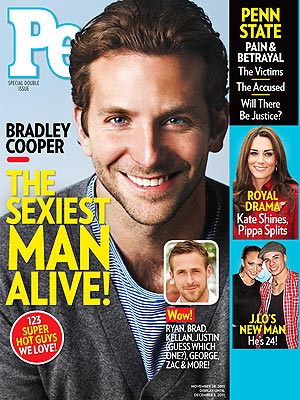 HAPPY BIRTHDAY BRADLEY COOPER <3!!!